/
/
/
Reduction of GHG emissions
Reduction of GHG emissions
In 2020, as part of consistent reduction of GHG (CO2) emissions, KPO set the target to reduce direct GHG emissions by 285 thousand tonnes through implementation of a number of production optimization and energy efficiency projects.
Owing to implementation of the seven projects listed in table below, the actual reduction of the GHG emissions was 88% of the planned target. The target was not achieved due to restrictions on well operations introduced in Q3 2020 due to quarantine.
GHG emissions' reduction measures in 2020
No

Activity

GHG emissions' reduction, tonnes/year

Status of completion, %

Target

Actual

1

Use of high pressure separator during well clean-up*

219

10

5%

2

Use of high pressure pump during well clean-up

9

0.4

4%

3

Use of oil based fluid for reservoir stimulation

10

11.5

120%

4

Use of high volume gas fraction pump (HVGF)

6

108.6

1,817%

5

Repair of flare headers valves at KPC

19

26

137%

6

Adjustment of steam flow meter at Train 4

10

21.6

220%

7

Upgrade of Unit 2 turbo-compressors piping

13

73.1

562%

Total:

286

251.2

88%
*The target to reduce GHG emissions for 2020 was not fully completed due to СOVID quarantine restrictions; the activity with a high-pressure separator was applied only at well № 9870 instead of 11 wells as planned.
Direct greenhouse gas emissions
Across KPO the direct greenhouse gas (GHG) emissions are regulated under the national quotas trading system. KPO obtained quotas for 2018-2020 GHG emissions (CO2) in the amount of 6,927,159 tonnes on the basis of specific emissions indicators (benchmark). In 2018 — 2020, total actual emissions amounted to 5,242,018 tonnes of CO2, which made 76 % of the quota.
Assessment of GHG emissions is performed for carbon dioxide (СО2), methane (СН4) and nitrogen oxide (N2O), using the calculation method on the basis of the Company's operations data (in terms of fuel consumption and laboratory data on fuel composition).
According to the verified GHG Emissions Inventory Report for 2020, the total volume of GHG emissions amounted to 1,821,604 tonnes in СО2-equivalent, of which СО2 contribution equalled to 1,800,774 tonnes of СО2-equivalent (98.9%), CH4 — 11,993 tonnes of СО2-equivalent (0.6%), N2O — 8,837 tonnes of СО2-equivalent (0.5%).
Information on the dynamics of generated GHG emissions is provided in table below. A small reduction in GHG emissions (by 2.6%) in 2020 versus 2019 is attributed to the changes to the fugitive emissions methodology.
Dynamics of GHG emissions generated as a result of KPO production activities, 2018-2020
Total volume of greenhouse gas emissions (tonnes of CO2 equivalent)

From fuel combustion at flares and incinerators

From fuel combustion at stationary sources

Fugitive emissions*

Total GHG emissions in 2020

Total GHG emissions in 2019

Total GHG emissions in 2018

141,954

1,670,399

9,251

1,821,604

1,870,324

1,893,447
*Considering the use of internal calculation methodology for fugitive GHG emissions approved for use for the purposes of inventory by the RoQ Ministry of Environment, Geology and Natural Resources. The volume of figutive GHG emissions in 2020 calculated by the methodology applied at the GHG emissions inventory for 2018-2029 made up 161,782 of CO2-equivalent.
Specific greenhouse gas emissions
In 2020, KPO specific GHG emissions amounted to 62 tonnes of СО2 per thousand tonnes of produced hydrocarbons, which is fully consistent with the target indicators of the specific GHG emissions of no more than 67 tonnes of CO2 per thousand tonnes of hydrocarbon produced.
Graph below shows the dynamics of specific GHG emissions comparing to the specific emissions data provided by the IOGP. The actual specific GHG emissions at KPO are 23% lower than the European indicators and 52% lower than the international ones.
Dynamics of specific GHG emissions per unit of produced hydrocarbons (HC)*, 2018-2020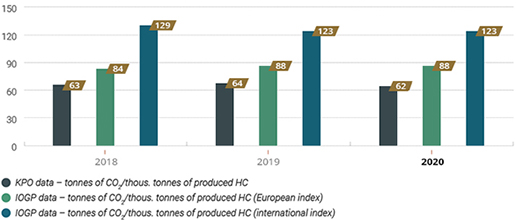 *The data was sourced by Annual reports of the International Associations of Oil and Gas Producers (IOGP) — 'Environmental Performance Indicators — 2019 Data'. The 2019 data was used for comparison purpose, as the 2020 IOGP Report was not available at the time this issue was prepared.
Indirect GHG emissions at Karachaganak Field resulting from the consumption of imported electricity in 2020 account for an insignificant part (0.05%), since the company has a gas turbine power plant, the main purpose of which is to provide its own electricity to the entire production complex of the field and nearby settlements. These emissions are not subject to accounting and are not included in the reporting under the internal system of quotas for GHG emissions of the Republic of Qazaqstan. Information on them is provided only in reports to parent companies. For 2020 the indirect GHG emissions at KPO amounted to 1022 tons of CO2.