/
/
/
Water use and wastewater treatment
Our target is to use water resources rationally with the aim to preserve them. KPO controls the use of clean water at the Company by undertaking a set of measures on conservation of water resources and re-use of treated water, wherever possible.
KPO water consumption, 2018 — 2020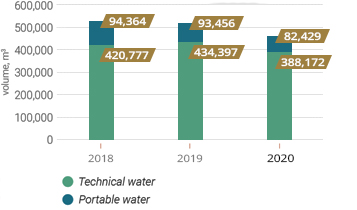 The main source of water supply for production needs is the Karachaganak field is a holding pond No.1 at the Konchubai gully, for household and domestic needs it is a Zharsuatwater intake. The source of water supply for domestic and production needs of the Bolshoi Chagan OPS is the Serebryakovskiy water intake, for Atyrau Terminal OPS is the Kigach water intake.
Water intake from other sources is ensured through contracts with water suppliers. According to the Special Water Use Permit valid until 24.05.2025 for water intake from the Konchubai Gully for industrial needs, the KPO annual intake limit constitutes 741,432 м3.
Konchubai Gully is not part of the list of fishery waters based on the WQO Administration Resolution dated 22.12.2014. The Konchubai Gully is not fed by groundwater; it collects water only during springtime by snow melting and rainfalls. The holding pond № 1 at the Konchubai Gully is operated in line with the Operating Rules for ensuring optimum water use conditions, integrity of structures, environmental protection, and also as per the Process operating procedure for safe operation and maintenance of the holding pond's hydraulic structures.
The potable water is used exclusively for domestic needs of the KPO facilities. At the Bolshoi Chagan OPS the potable water is supplied by the RSE KazVodKhoz WQO Branch and, due to absence of alternative sources of water supply, is used only to replenish the fire tanks for fire safety purposes.
Table below shows KPO's water consumption broken down by sources.
KPO water consumption in 2018-2020 by sources, m3
№

Source

Facility

Water quality

Water consumption

2018

2019

2020

1

Zharsuat water intake facility (domestic needs)

KOGCF

groundwater, potable

92,888

91,851

80,957

2

Serebryakovskiy water intake facility

Bolshoi Chagan OPS

groundwater, potable

1,476

1,605

1,472

Domestic needs

980

924

938

Production needs

496

681

534

3

Konchubai Gully water intake facility (production needs)

KOGCF

surface water, technical

417,232

431,616

384,453

4

Kigach water intake facility

Atyrau Terminal

surface water, technical

3,545

2,781

3,719

Domestic needs

933

777

759

Production needs

2,612

2,004

2,960