LETTER FROM
GENERAL
DIRECTOR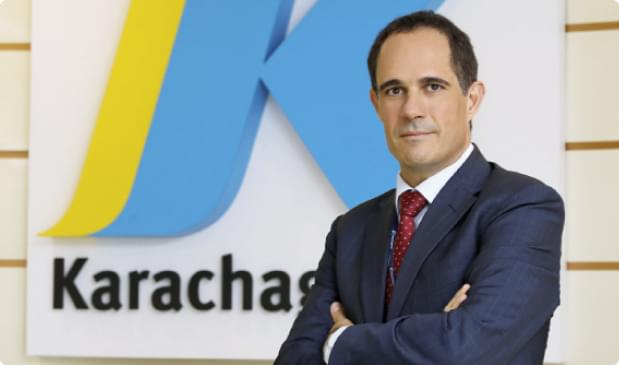 Giancarlo Ruiu
KPO General Director
Dear readers,
It is my great pleasure and honour to present to you the 13th issue of the KPO Sustainability Report of the Karachaganak Petroleum Operating B.V. Kazakhstan Branch, covering 2020.
I have recently joined KPO and already feel excited about the sustainability activities that KPO has been carrying out over the past years.
2020 has definitely been a shaking experience, as it caused a massive transformation for the society as a whole, the industry and our Company due to the COVID-19 pandemic. I am proud to say that KPO was able to manage and control the crisis in an early stage and maintained operations at an outstanding level, resulting in further sustainability improvements.
Among the 2020 achievements, I would like to highlight KPO's continuous improvements in areas such as Safety and Occupational Health, Environmental protection, community engagement and medical support. Also, the local content progress in staff and in goods, works and services, and particularly, in production and development should be highlighted: good examples can be found in the Karachaganak Gas Debottlenecking Project, the 4th Gas Injection Compressor Project and the Karachaganak Expansion Project 1. Further key improvements were made in the area of process safety and asset integrity at our production facilities. Here, Unit-3 should be highlighted. The performance of our personal safety and road safety was also enhanced.
In terms of environmental emissions, KPO is a world-class operator. Yet, further progress must be made considering the recent changes in the national legislation, as well as society's expectations.
In the oil and gas industry, we must never allow ourselves to become complacent, taking comfort in achieved metrics, but must continue to strive for leaving a sustainable legacy for our earth and future generations through leadership, innovations and co-operation.
I very much look forward to continuing and enriching KPO sustainability practices and being able to share our experience with all our stakeholders in an open and transparent manner.
Allow me to greet you wholeheartedly and present this 13th edition of the KPO Sustainability Report – I trust that you find these pages very informative and useful in understanding modern-day Karachaganak.