Governance structure and Management approach
Karachaganak Petroleum Operating B.V. Kazakhstan Branch was established in 1997 as a Joint Venture to operate the Karachaganak Oil and Gas Condensate Field (further as Karachaganak Field or the KOGCF) in accordance with the Final Production Sharing Agreement (FPSA).
KPO brings expertise from five international oil and gas companies (hereinafter referred to as the Contracting or Parent Companies, Shell replaced BG in 2016):

KPO established an integrated and effective system of governance, risk management, business planning, internal control and compliance, in order to achieve sustained organizational success. The integrated management system approach enables appropriate decision-making and provides adequate control mechanisms to ensure strategies, directions and guidance from senior management are carried out systematically and effectively.
Organisational structure
KPO organisational structure was designed to enable KPO to meet its business objectives for the benefit of the Republic of Qazaqstan (the Authority represented by the PSA LLP) and the Contracting Companies by continuously assess current external environment.
KPO has two main governing bodies, the Joint Operating Committee (JOC) and the Joint Marketing Committee (JMC), which are formed by representatives of each of the five Contracting Companies and representation of the Authority under the FPSA. In particular, at JOC and JMC level, the Authority has one vote and the Contracting Companies, as a whole, have one vote. An affirmative vote on both sides is required for a decision.
In addition to the above, there has been established certain sub-committees dealing with specific matters. Graphical view of the full governance structure is given on figure 6. Functions of the committees and sub-committees were described in detail in the Sustainability Report 2018 (pages 33-34).
Fig. 6. Karachaganak venture senior management structure (as of 01.04.2021)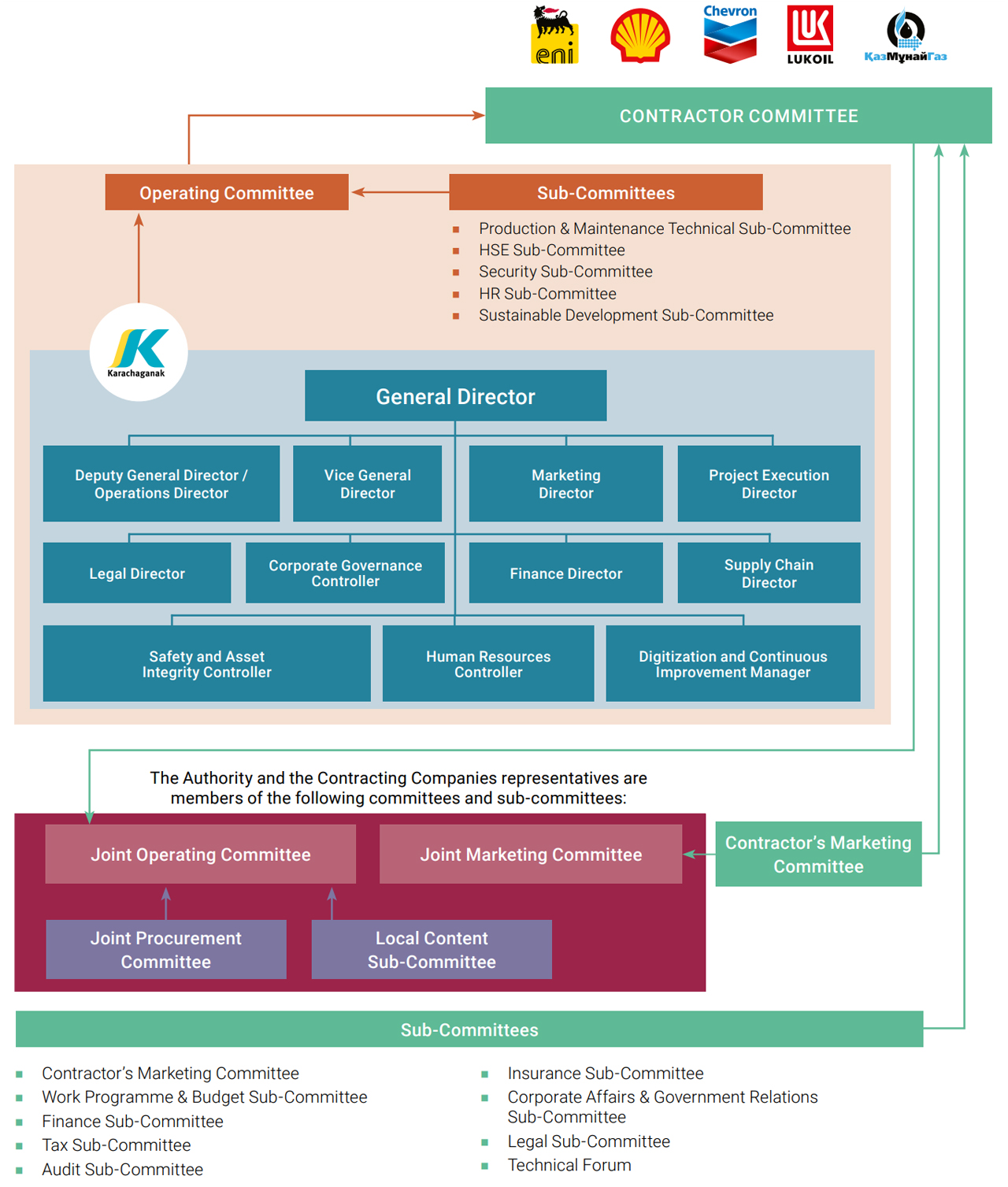 KPO MANAGEMENT SYSTEMS
In all aspects of its activities and in accordance with the FPSA, KPO operates to internationally recognized standards, which are implemented through a number of policies, procedures and appropriate best practices embedded in KPO's management systems.
In respect of sustainable development, KPO management systems address sustainable development matters and issues as shown in the following table:
Tab. 5. Management systems relevant to sustainable development
Sustainable Development

Corporate Governance

Operations

Health, Safety, Security, Environment & Asset Integrity

Social Performance

Ethics & Compliance

KPO Sustainable Development Charter

Karachaganak Corporate Management System Manual;
Corporate Governance Controllership Management System.

Management System Manual for Operations Directorate;
Marketing Directorate Management System;
Finance Directorate Management System;
KPO Competency Management System Policy.

Health, Safety and Environmental Policy and Rules;
KPO HSE Annual Improvement Plan;
Occupational Health and Health Promotion Policy;
Energy Management System Manual and KPO Energy Policy;
Security Management System Framework.

Local Content Policy
Nur-Sultan Office Controllership and JOC Secretariat Management System;
KPO Social Performance Policy and Standards;
KPO Sponsorship and Donations Policy;
HR Management System Manual;
Social Projects Department Management System.

KPO Code of Conduct;
Conflict of Interest Policy;
Compliance Assurance Policy.
Integrated HSE Management System
KPO managers HSE issues through its Integrated HSE Management System, which is certified against the ISO 14001:2015 (Environmental Management System), ISO 45001:2018 (Occupational Health and Safety), and ISO 50001:2018 (Energy Management).
In 2020, KPO had passed through the re-certification process and successfully obtained all these ISO certificates. This achievement demonstrated that COVID-19 has had no impact on the certification process and on the KPO's HSE commitment.
KPO employees and contractor staff work intensively towards maintaining these processes. Continual improvement and commitment is KPO's priority in ensuring the health and safety of the workforce with minimum impact to the environment.
The KPO HSE requirements are extensively communicated and included in the specific contract schedule of all the contracts. Relevant procedures are in place to mitigate the potential risks and ascertain KPO's activities are safely implemented.
Each year KPO undertakes a range of HSE programmes, trainings, initiatives and campaigns. These include but are not limited to HSE inductions, job specific HSE training, and various other HSE programmes, such as Safety Leadership and Culture Programme, HSE Card, HSE Award Incentive Scheme, Health Risk Assessment, Environmental Culture and Awareness Enhancement Programme, and other. In 2020, KPO held six corporate audits and 22 HSE audits.
MANAGING RISKS
Petroleum operations must be carefully managed with respect to people, the environment, and assets. As a responsible O&G operator, KPO makes particular emphasis on managing business risks, which include, but are not limited to:
Personnel safety: potential emissions of hydrogen sulphide (H2S);
Road traffic incidents – loss of vehicle control;
Asset integrity failure;
Environment: potential spills, generation of waste, and emissions to air, withdrawal of emissions permit;
Lack of clear long-term strategy;
Political and social stability;
Loss of monetization opportunities for gas and liquids products;
Ethics & Compliance of our own personnel, our contractors, and subcontractors;
Attracting and retaining qualified local Qazaqstani personnel;
Cost Recoverability;
Exposure to major cyber security incidents.
Within KPO, a formal Risk Management process is in place to identify and effectively manage business and process safety risks. The Risk Management Procedure and Framework define and describe this process, as well as roles and responsibilities across the Company.
Corporate Governance Controllership is responsible for development of a risk management system and for maintaining the Corporate Risks Register. The Corporate Risk Register contains a list of potential risks, as well as relevant action plans aimed to mitigate those risks.
Key Process Safety risks feature into this process with the Barrier Model containing all detailed process safety risks, which is under management of Safety & Asset Integrity Controllership and regulated with the Risk Management Framework.
In 2020, we initiated the change in our risk management approach towards further integration. This approach is aimed at synchronizing business goals and targets with business risks on each level of the organisation.
All business risks are reported through Corporate Risks Register to and reviewed in the KPO Risk Committee meetings participated by KPO senior management. After each Risk Committee meeting, the Corporate Governance Controller provides to ConCom the Corporate Risk Register Report, outlining the details on the KPO's top risks.
Detailed disclosure on measures for reduction of key specific risks related to social, environmental and economic material topics is provided in the relevant chapters of this Report.
ASSURANCE
KPO utilises audit as one of the tools to provide assurance. The KPO Internal Audit Department arranges internal and independent assurance designed to add value by supporting KPO in achieving its business objectives through a systematic and disciplined management approach. This approach helps evaluate and improve the effectiveness of risk management, control, and governance processes.
KPO implements its annual audit plan, which includes topics, such as effectiveness of business processes and HSE management systems, compliance with laws, regulations and internal procedures, reliability of financial and management reporting, and follow-up of audit actions. In addition, KPO Parent Companies conduct an annual audit to provide additional independent assurance to the areas of risk management, control, and governance. The results of the audits are reported to KPO management and Parent Companies at the Audit Sub-Committee.
Another tool that KPO utilises is Value Assurance Review. This tool is applied to all KPO development projects and is a scalable process assisting project leaders to optimise the value of investments for the venture. Besides, Value Assurance Reviews, functional technical reviews, peer assists and workshops are held to assure projects go through the necessary stages from 'identification' to 'operation'. Parent Companies' representatives are involved in value assurance for larger capital projects, whilst for smaller projects the value assurance is performed within KPO.
In addition, assurance of effectiveness of the KPO's Control Framework and compliance with the RoQ laws is provided through ISO certification including surveillance audits performed for Environmental Management System (ISO 14001:2015), Occupational Health and Safety (ISO 45001:2018), and Energy Management (ISO 50001:2018).
EXTRACTIVE INDUSTRIES TRANSPARENCY INITIATIVE
KPO supports the Extractive Industries Transparency Initiative (EITI) in order to ensure transparency of incomes and overall chain of value creation in the management of the natural resources of the Republic of Qazaqstan (RoQ).
In 2020, KPO paid taxes in the amount totalling US$ 971 bln (at the exchange rate of KPO SAP accounting system) according to the EITI submission requirements. This data is reported in the 16th National Report on Implementation of the Extractive Industries Transparency Initiative for 2020.
KPO has been solely submitting the EITI reports on its tax obligations to the RoQ authorised bodies since 2014.
One can see the history of KPO payments from 2014 through 2020 in table 6.
Tab. 6. Taxes and mandatory payments paid by KPO to the RoQ Budget in 2014–2020 (in US$)
| | | | | | | |
| --- | --- | --- | --- | --- | --- | --- |
| 2014 | 2015 | 2016 | 2017* | 2018 | 2019 | 2020** |
| 2,1 bln | 1,2 bln | 0,369 bln | 0,746 bln | 1,9 bln | 1,6 bln | 0,971 bln |
Notes: 
* The difference in the amount of 897 mln, which was disclosed in the KPO Sustainability Report 2017, is explained with reflection of the return amount in post data reconciliation between taxpayer and recipient.
** Starting from 2020, while converting from Qazaqstani Tenge into US Dollars KPO has applied the exchange rate as of the date of payment according to its internal SAP accounting system, and not the exchange rate of the National Bank at the end of a reporting year.
Data about taxes paid by KPO to the state budget is publicly available at http://egsu.energo.gov.kz (section 'Final Report on tax and non-tax payments / incomings from payers of oil & gas and mining sectors of the Republic of Qazaqstan')