Health, safety and asset integrity are the key elements for successful development and operation of any oil and gas condensate field. As a socially responsible company, KPO utterly commits to support effective HSE culture where production leaks are entirely excluded and each employee comes back home safe and sound.
During 2020, we have been carrying out awareness activities to prevent the COVID-19 spread; and they are still ongoing. Almost all KPO departments were involved and multiple enforcement tools were used to implement the communication strategy against the COVID-19 spread: posters, public address messages, information signs, pop-up messages, individual Intranet page, Instagram posts, e-learning and videos were posted both on the Company internal and external resources including the YouTube channel and billboards along Karachaganak Field roads.
Tab. 9. Our targets in and safety
| | | | |
| --- | --- | --- | --- |
| Our targets in 2020 | Status | Actions taken to implement targets in 2020 | Targets for 2021 |
| Implement the Safety Continuous Improvement Journey | New goal – 91% completed | The Plan was implemented through raising awareness on Golden Rules and Life Saving Rules, as well as consequences management, leadership and mentorship, incentive mechanism and presence of management at work sites. | Continue implementation of the Safety Continuous Improvement Journey |
| Conduct 100% HSE competency assessment of the front line supervisors in Operations Directorate | 83.5% completed | Due to pandemic and reduction of personnel presence at work places, supervisors' competency assessment by 10 HSE elements was completed by 83.5 %. | Complete competency assessments by 10 HSE elements for KPC supervisors |
| Develop and implement HSE Communication Plan | New goal –completed | The Plan was developed; meetings for its implementation were held among the staff during the year. Planned events were carried out accounting for COVID-19 restrictions. | Implement HSE Communication Plan for 2021 |
| Implement activities on the 2020 Road Safety Implementation Plan | Completed | 14 out of 18 planned short-term actions in the Road Safety Improvement Plan were completed by 98%. See details in 'Road Safety' section below. | Implement Road Safety Improvement Plan |
| Update the Contractor HSE Performance Management Strategy and arrange training workshops | Completed | Contractor HSE Performance Management Strategy was reviewed and updated. Training workshops were held for key personnel engaged in contracts' management. | |
Health and safety performance
We plan our health and safety activities by tracking our progress and monitoring the world events. We measure our success in health and safety by frequency of incidents over a set amount of work in man-hours. Our health and safety records are presented for the period 2012 – 2020 with a focus on 2020.
Graph 2 demonstrates Lost Time Injuries Frequency (LTIF)2 and Total Recordable Injury Frequency (TRIF)3.
In 2020, KPO observed a certain decrease in total recordable injuries. The number of Lost Time Injuries remained the same (2 injuries). In 2020, LTIF was 0.06 (no changes vs 0.06 in 2019) and TRIF – 0.18 (vs 0.28 in 2019). KPO investigates all incidents to avoid reoccurrence. In addition, we share lessons learned with our contractors and other interested parties and adopt safety improvement practices from other companies.
Table 10 represents KPO LTIF versus contractors LTIF for the last three years. KPO and contractors' data are presented separately. To obtain a consolidated indicator, a calculation formula should be applied, and not just a summarized data used.
Graph 2. LTI and TRI frequencies: KPO and contractors, 2012–2020

Tab. 10. Lost Time Injuries frequency: KPO vs contractors, 2018–2020
| | | | |
| --- | --- | --- | --- |
| Performance Indicators | 2018 | 2019 | 2020 |
| Lost Time Injury Frequency (KPO) | 0,53 | 0,13 | 0,00 |
| Lost Time Injury Frequency (сontractors) | 0,20 | 0,04 | 0,07 |
Table 11 represents KPO TRIF versus contractors' TRIF.
Tab. 11. Total Recordable Injury Frequency: KPO vs contractors, 2018–2020
| | | | |
| --- | --- | --- | --- |
| Indicators | 2018 | 2019 | 2020 |
| Total Recordable Injury Frequency (KPO) | 0,66 | 0,13 | 0,00 |
| Total Recordable Injury Frequency (contractors) | 0,44 | 0,33 | 0,22 |
Note: First Aid Cases are not included into calculations of occupational injuries
KPO strives to make work places safe. Despite this, during 2020 there were six incidents, resulting in various injuries of contractors' employees.
Tab. 12. Incidents in 2020
Injury Type

Description

Number

2 Lost Work Day Cases

Hand injury as a result of pinching

1

Eye injury as a result of foreign body intrusion

1

4 Total Recordable Injuries, where employees returned to work after medical treatment (1) or were transferred to restricted work (3)

Hand injury (cut) by metal chips during waste segregation

1

Feet injury as a result of pipe falling

1

Injury (burn) of fingers as a result of heating liquid release

1

Feet injury (sprain) as a result of ankle twisting

1

TOTAL

6
No severe Road Traffic Incident (RTI) was reported in 2020. The RTI frequency per 1 million km driven decreased from 0.02 in 2019 to zero in 2020. The zero RTI rate is associated with the implementation of a number of measures under the Road Safety Improvement Plan for 2020 (measures are described in the Road safety section).
In 2020, the kilometers driven by KPO vehicles amounted to 37.9 million km, compared to 42.7 million km in 2019. One of the reasons for decrease in kilometres driven is the restriction on travelling/transportation due to the COVID-19.
Graph 3. Frequency of severe RTI: KPO and contractors, 2018–2020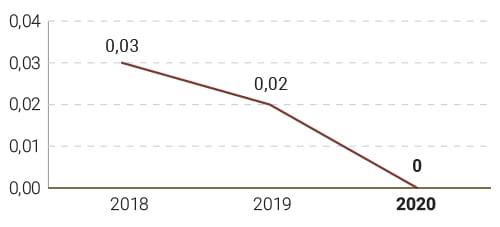 KPO RTIF calculation method: RTIF = number of RTI (severe) x 1,000,000 / km driven.
Tab. 13. RTIF: KPO vs contractors, 2018–2020
| | | | |
| --- | --- | --- | --- |
| Performance Indicator | 2018 | 2019 | 2020 |
| Road Traffic Incident Frequency (KPO) | 0,00 | 0,00 | 0,00 |
| Road Traffic Incident Frequency (contractors) | 0,03 | 0,03 | 0,00 |
Graph 4. Fatality Frequency: KPO and contractors, 2018–2020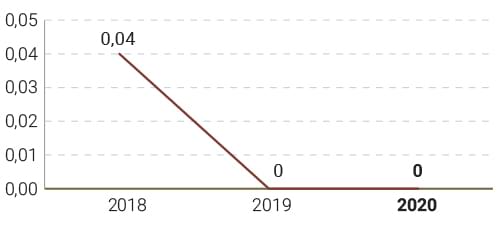 Note: Fatality frequency calculation method used by KPO: fatality frequency (per million man-hours worked) = number of fatalities x 1,000,000 / man-hours worked. There was one fatal incident at KPO in 2018.
Tab. 14. Fatality Frequency: KPO vs contractors, 2018–2020
| | | | |
| --- | --- | --- | --- |
| Performance Indicator | 2018 | 2019 | 2020 |
| Fatality Frequency (KPO) | 0.00 | 0.00 | 0.00 |
| Fatality Frequency (contractors) | 0.05 | 0.00 | 0.00 |
In 2020, KPO and сontractors' employees worked 34,225,582 man-hours: 21 % of them (7,269,825 man-hours) worked by KPO employees and 79 % (26,955,757 man-hours) by сontractors' employees.
Tab. 15. Man-hours worked: KPO vs contractors, 2018–2020
| | | | |
| --- | --- | --- | --- |
| Indicators | 2018 | 2019 | 2020 |
| Man-hours worked (KPO) | 7,561,991 | 7,829,313 | 7,269,825 |
| Man-hours worked (сontractors) | 20,417,110 | 27,339,092 | 26,955,757 |
| Total | 27,979,101 | 35,168,405 | 34,225,582 |
In 2020, two high potential incidents were recorded in KPO: one near miss and one incident with asset damage.
Tab. 16. High Potential Incidents4 : KPO vs contractors, 2018 – 2020
| | | | |
| --- | --- | --- | --- |
| Indicators | 2018 | 2019 | 2020 |
| High Potential Incidents (KPO | 2 | 3 | 1 |
| High Potential Incidents (contractors) | 5 | 8 | 1 |
| Total | 7 | 11 | 2 |
4 High Potential Incident (HPI) - any unplanned or uncontrolled event or chain of events that could have resulted in injuries to be accounted.
In 2020, 73 near misses were registered in the Company: of which 46 (63 %) were identified through the Incident Notification Procedure, and 27 (37 %) were identified through HSE cards. For each near miss same as for each incident, KPO performs a thorough investigation, identifies the immediate and root causes and develops recommendations to correct the shortcomings and prevent their recurrence.
Tab. 17. Near misses5 : KPO vs contractors, 2018 – 2020
| | | | |
| --- | --- | --- | --- |
| Indicators | 2018 | 2019 | 2020 |
| Near misses (KPO) | 31 | 47 | 27 |
| Near misses (contractors) | 41 | 64 | 46 |
| Total | 72 | 111 | 73 |
5 Near-miss – any unplanned or uncontrolled event or chain of events that could have resulted in injuries to be accounted for, asset damage, the environment, or an incident related to process safety, but such consequences, by coincidence, were avoided.
PEER COMPARISON
Every year we review our key safety performance indicators against the other O&G producers' indicators reported by International Organisation of Oil and Gas Producers (IOGP). IOGP annually publishes HSE performance indicators on the website www.iogp.org.
In 2020, the number of Lost Time Injuries in KPO remained the same. If compared with other peer companies in 2020, KPO LTIF is better than the performance of IOGP 10 top and IOGP average (see graph 5).
Graph 5. KPO Performance versus IOGP, 2007 – 2020

HSE IMPROVEMENT PLAN FOR 2020
In HSE KPO follows the principle of precaution (or prevention) and mitigation of any negative impact of its activity on employees' health and the environment. To prepare an annual HSE Improvement Plan, KPO selects HSE activities that are not part of the daily work and aimed at further improvement.
While devising the Plan for 2020, the previous topic-based approach was applied in order to align it with the key performance indicators, as well as to achieve the goals set for improving the integrated HSE system.
To achieve a zero-injury rate and ensure asset integrity, the key topics for improvement were divided into four key 'focus areas':
Leadership and Safety Culture;
Risk Management and Asset Integrity;
Environment and Energy Saving;
Transport (Road Safety).
The 2020 HSE Improvement Plan consists of 58 key actions and improvement proposals developed to ensure the implementation of each "focus area". The plan was completed by 80 %, and 20 % of the activities will be continued as a part of the plan for 2021. The COVID-19 with its restrictions has prevented to implement the planned activities in full.
In the following paragraphs, we present the activities of our Safety Continuous Improvement Journey and road safety. Environment protection, energy saving and risk management are presented in relevant chapters.
KPO golden rules and life saving rules
As part of the KPO HSE Policy on raising HSE cultural awareness and reducing incidents, KPO has three main Golden Rules (from 2017) and eleven Life Saving Rules (from 2019).
Golden Rules regulate the Company's approach to Health and Safety: comply with legal regulations, intervene if in danger and respect colleagues while engaging.
Life Saving Rules are based on rules of the International Association of Oil and Gas Producers – IOGP, and are created as part of standardization of global health and safety regulations among oil and gas industry organizations, as well as to improve sharing of knowledge, experience and lessons learned. These rules focus on 11 types of activities with highest potential risk.
These set rules are applied to all employees of KPO, contractors and sub-contractors and all assets and production facilities operated by the Company.
Fig. 9. Types of activities with high potential risk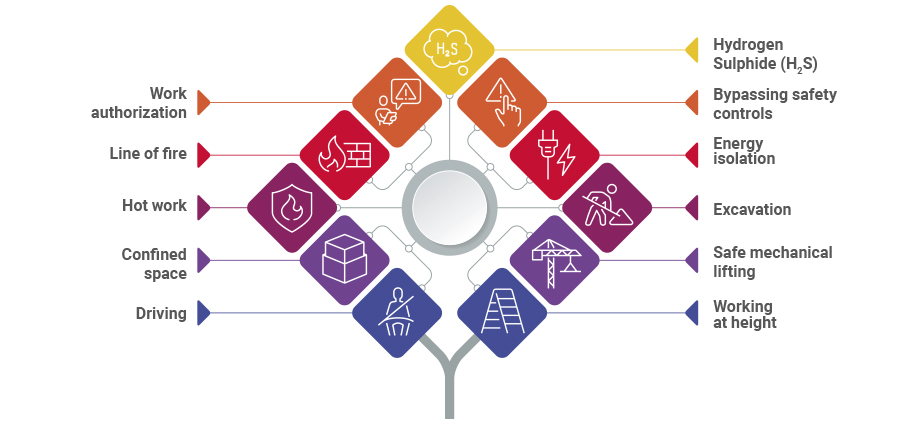 Consequences management
KPO has an HSE Behavioral Accountability and Consequences Management Model ensuring systematic study of employee's behavior with either positive or negative consequences, and identifying appropriate reward or action.
Familiarization sessions with this model for KPO and contractor employees were initiated in 2020. The sessions were held in January and February 2020 and suspended afterwards because of the COVID-19 restrictions. For covering most of personnel working remotely, Corporate Safety Department developed and issued the e-guide for the HSE Behavioral Accountability and Consequence Management Model. In 2021, activities on raising awareness of the Company and contractor employees will be continued.
HSE Leadership and Coaching
In order to reinforce health and safety continuous improvement, great efforts of all involved enterprise divisions are required. Typically, teams under strong leadership achieve best results. In this regard, with the support of the Operator companies, KPO has developed an HSE Leadership and Coaching Programme, which was first implemented in the Project Execution Directorate and launched within the Operations Directorate at a later stage.
Management presence on work sites
For tracking the overall HSE performance and management interaction with employees at work sites, KPO practices HSE site tours at two levels: Management tours and Leadership tours engaging KPO Directors/Controllers, as well as Contractors' management.
In 2020, the total number of HSE Leadership tours amounted to 70 compared to the planned 60 (116 % plan completion).
Road safety
With a target to ensure more sustainable road safety performance, KPO continues implementing its Road Safety Improvement Plan. In 2020, the Company completed 98 % short-term activities of the plan including:
Update of the HSE Policy with adoption of the road safety commitments;
Implementation of a 'pool' vehicle system for the Aksai-based offices as part of the vehicle optimization and reduction of kilometres driven;
Road Safety Stand Down involving top management of nine major contractors, where strict compliance with road safety rules, uncompromised approach to rules violation, prevention of drivers' fatigue, consideration of external factors while driving, etc, were raised;
Special Winter Road Safety Stand Down involving both Company and contractor drivers on risks of driving in winter including threats of hitting animals;
Ensuring compliance with installing dashcams on all contractors' vehicles working at the Karachaganak field;
Update of the key Road Safety procedures covering road safety, management of the in-vehicle monitoring system, safe load haulage;
Comparative analysis of the Company's road safety management system for compliance to the international standard ISO 39001 "Road Safety Management System". KPO plans a certification on this standard in 2022
CASE STUDY 2
HSE LEADERSHIP AND COACHING
Context / short description:
Safety is of paramount importance at KPO. Although, KPO faces repeated incidents for the same cause: risk complacency and lack of intervention at work sites. In addition, KPO introduce big projects and engage new employees with no work experience at the Company facilities. Our key target is to train them up to the required safety standards.
Safety at work sites subject to HSE leadership and competency of supervisors and leads. By own example, supervisors and leads can establish and reinforce safety culture.
Goal:
Improve skills of supervisors to identify hazards, engage employees and coaching teams in order to improve safety culture at workplaces.
Solution / actions:
In 2019, the Coaching, Engagement and Intervention workshop was developed, where KPO and contractor supervisors and leads responsible for high-risk activities were invited. The workshops consisted of theoretical part, practical group exercises including coaching sessions at work sites.
For 2020, KPO Management assigned a task of implementing the HSE Leadership and Coaching Programme covering:
All supervisors and project team leaders of the Project Execution Directorate, in particular the 4th Injection Compressor project,
Operations line managers of supervisors and team leaders, who had attended Coaching, Engagement and Intervention workshops in 2019.
Result:
During 2019 and 2020, over 1200 KPO and contractor supervisors have attended the workshops allowing them improve their knowledge and skills in coaching, involvement and intervention. Besides the standard training methods, the training materials included videos, incident investigation data and pocket manuals.
The most active supervisors – programme participants, who applied new knowledge on work sites, have received awards within the HSE incentives mechanism.
CASE STUDY 3
SAFE BEHAVIOUR MOTIVATON AS PART OF KEY PERFORMANCE INDICATORS
Context / short description:
Both positive and negative behaviour of employees have significant impact on the HSE culture in the organization.
Goal:
In 2020, for better understanding and memorizing Golden Rules and Life Saving Rules by the Company and contractor employees, a mandatory e-learning was launched followed by testing.
Solution / actions:
Aimed at improving safety culture and reinforcing and motivating personnel to undergo e-learning, the Company management took a decision to make successful completion of e-learning as one of the criteria for meeting KPIs and annual bonuses in the area of health and safety.
The second criterion was to achieve a 12:1 indicator (near misses to recordable injuries), i.e. for each recordable injury there should be at least 12 near misses. The second criterion was aimed to motivate employees to report all kinds of incidents, minor and those without consequences, the investigation of which would prevent more serious incidents.
Result:
In 2020, the Company has registered 73 near misses against the six recordable injuries, i.e. established ratio of the 12 near misses to one recordable injury was achieved. By year-end, all KPO employees (except for those on long leaves) have completed this learning. Annual bonus for HSE performance was paid to employees
NEW COMMUNICATION TOOLS FOR EMPLOYEE HSE AWARENESS
The unexpected situation of the global coronavirus pandemic pushed KPO to look for and engage new techniques and resources in raising awareness of the staff and improving HSE communication.
In 2020, our Corporate Safety Department began issuing a Newsletter in order to communicate the most important HSE events and activities. This format has allowed keeping the remotely working employees up to date, and sharing their suggestions and lessons learnt.
The recurrence of PC screen pop-up messages was increased from one to five times a day, each message containing hyperlinks to data of any format. The pop-up message design was improved with eye-catching images and minimum of text in order to draw attention of employees. This allows conveying the relevant information more effectively.
By numerous requests, we have launched weekly safety moments prompting the most critical HSE topics that can be used for discussion before or during work meetings. If a specific topic is required, this can be found among all issued topics in the HSE library on the Intranet.
As part of the 'raising awareness' campaign on winter safety and preventing incidents in winter weather, presentations and a video in the TikTok social media style were developed and distributed. For enrolment in the contest that was also organised among the KPO and contractor employees, participants had to present photos or short videos on the following topics:
Getting ready for winter – safety at work;
Getting ready for winter – taking care of the family;
Getting ready for winter – a safe vehicle.
Following the contest results, 10 authors of the most creative useful tips were rewarded.
All communication tools that used at KPO imply a feedback through the HSEHelp@kpo.kz mailbox. Corporate Safety Department offers the staff to ask questions and share comments and suggestions in every message communicated internally. The most valuable ideas are rewarded. In 2020, 387 requests received at HSEHelp@kpo.kz were processed.
Engagement with peer companies
In 2020, KPO successfully continued the initiative of HSE cooperation with the Oil Operator companies 'Tengizchevroil' and 'North Caspian Operating Company' aimed at mutual creation of sustainable safe behaviour culture in the industry. Information, lessons learned from incidents and best practices are shared. In addition, this initiative aims to simplify, standardize and implement common requirements and practical solutions in the oil and gas industry. Over the past year, the collaboration continued online.
Issues discussed at the meetings related to organizing work in restricted COVID-19 conditions and road safety including the classification of road traffic incidents, the use of a vehicle monitoring system and video cameras while driving, the incident investigation process and other.
CASE STUDY 4
GENERAL SAFETY AND ROAD SAFETY ENGAGEMENT WITH THE AKSAI COMMUNITY
Context / short description:
Each year KPO place utmost importance to awareness raising and promoting road safety and general safety amongst the population of Aksai. Given the limitations of the coronavirus pandemic, some of the planned activities were carried out in a new format.
Solution / actions:
KPO used to hold the annual Road Safety event dedicated to the International Children's Day celebrated on 1st June for Aksai children and parents. However, in 2020 the COVID-19 pandemic affected the implementation of this event.
Despite the limitations, thanks to assistance of the local 'Radio-Aksai' colleagues, the Corporate Safety Department employees were able to conduct an online contest having communicated with parents and children of the town via Instagram.
A week before the event several short videos were prepared and published on the "Radio-Aksai' Instagram page to remind about the most common risks and safety rules targeting shaping habits of safe behaviour and preventing child injuries. Along with this, we proposed Aksai residents to provide their photos and videos in order to share their ways of ensuring safety and protection of children at home, outside and on the roads, etc.
The best and most creative works were selected for the awards and were announced live on the 'Radio-Aksai' on the Children's Day.
In addition, during 2020, in collaboration with the Aksai radio station, KPO continued broadcasting audio ads on various topics, including safety rules at home and outside, fire prevention, safe driving, child safety, as well as safe behaviour at night and in winter. Audio ads about safety and road safety are broadcasted on the radio five times a day with monthly updates.
Besides, together with representatives of the local road police and district education department, awareness events were held for children of secondary school junior classes to actively promote Road Safety rules. As part of this campaign, children were presented with memorable gifts and over a thousand reflective flickers for using at night time.