HSE Card programme GRI 103-3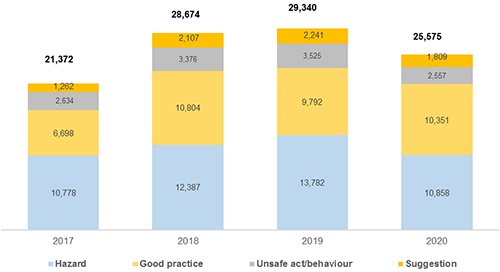 Company gives highest priority to personnel safety and prevention of near misses. HSE Card programme has been successfully functioning at KPO since 2012 and has become one of the key tools of a proactive approach to HSE risk management across KPO. This programme allows personnel to observe, to intervene, where required, to stop work and report via HSE Card about any noticed unsafe condition/ behaviour and near miss, and to make suggestions.
KPO contractors' personnel also participate in the HSE Card Programme.
The number of observations in 2020 decreased by 13% compared to 2019.
Based on results of the HSE Card Programme in 2020:
3,784 employees participated, 25,575 observations were made;
27 near-misses were reported and investigated with the aim to prevent more serious incidents;
Over 15 thousand interventions were made and corrective actions were assigned, 98% of which were closed at the year-end;
127 new KPO employees underwent the HSE Card Programme training;
59 contractor companies made 17,059 observations, accounting for about 67% of all received.